Disclaimer
The top 10 Crypto team is dedicated to ranking and comparing top exchanges in the market. To review references used in this review, please revert to the reference table at the end of this review. This review is not sponsored.
Pros
⦿ Low trading fees
⦿ Tutorial resources available
⦿ Trading fee discounts are available
Cons
⦿ Lengthy KYC identity verification process
⦿ Lacks transparency
⦿ Not available in the US
Binance is the largest exchange in the world

Over 500 tokens available to trade

Has developed an entire ecosystem around crypto

Provide free public resources to get you started
Year Founded: 2017
Official Website: https://www.binance.com
Cryptocurrencies Available: 500+
Customer Support: Chatbot, customer support tickets, FAQ
Pros Explained
1- Binance offers low trading fees, featuring maker/taker fees varying from 0% to 0.1% and immediate buy fees of 0.50%. In comparison to the competition, this platform's fees are pretty affordable.
2- Binance Academy, which provides instructional videos and articles for traders of all experience levels, is available to those looking to learn more about crypto and blockchain.
3- Binance Coin (BNB) holders can get a 25% reduction in trading fees.
Cons Explained
1- Long identification verification process: You won't be able to buy, sell, or trade on Binance until your identity has been verified, taking 10 to 30 minutes.
2- Binance's lack of structure and transparency has raised flags previously but has not damaged the exchange's reputation.
3- Binance currently does not provide access to US customers. However, it offers a more limited version via its partner binance.us.
Introduction to Binance
Binance is a cryptocurrency exchange that is the largest globally in terms of the daily trading volume of cryptocurrencies. It was founded in 2017 and is registered in the Cayman Islands. Binance was founded by Changpeng Zhao, a developer who had previously created high-frequency trading software
Company Overview
The global Binance platform was launched in 2017 by financial software developer Changpeng Zhao. In 2019, the company shut down access to U.S. users, citing regulatory concerns.3 Around the same time, Binance announced that it was partnering with BAM Trading Services, a U.S. Treasury Financial Crimes Enforcement Network (FinCEN)-registered company, to launch Binance. U.S. Binance.US is headquartered in San Francisco, California.
While the Binance global platform offers hundreds of available cryptocurrencies and is one of the top crypto exchanges globally, its U.S. partner platform is more limited. Binance.US offers just over 60 cryptocurrencies and is unavailable to users in Hawaii, Idaho, New York, Texas, and Vermont.4 Despite its limitations, the U.S. platform's trading tools, low fees, and valuable educational resources could make it a decent option for certain crypto traders. However, its dashboard isn't particularly user-friendly, which may overwhelm beginners.
Cryptocurrencies Available on Binance
Binance offers a selection of over 500 cryptocurrencies. Users can buy, sell, and trade popular assets like Bitcoin (BTC), Ethereum (ETH), Polygon (MATIC), Solana (SOL), Cardano (ADA), as well as VeChain (VET), and Chainlink (LINK).
How to buy Crypto?
1- Log in to your Binance account and click [Buy Now] on the homepage banner.

2- You can choose to buy Crypto with different fiat currencies.

3- You can choose your preferred payment method here. …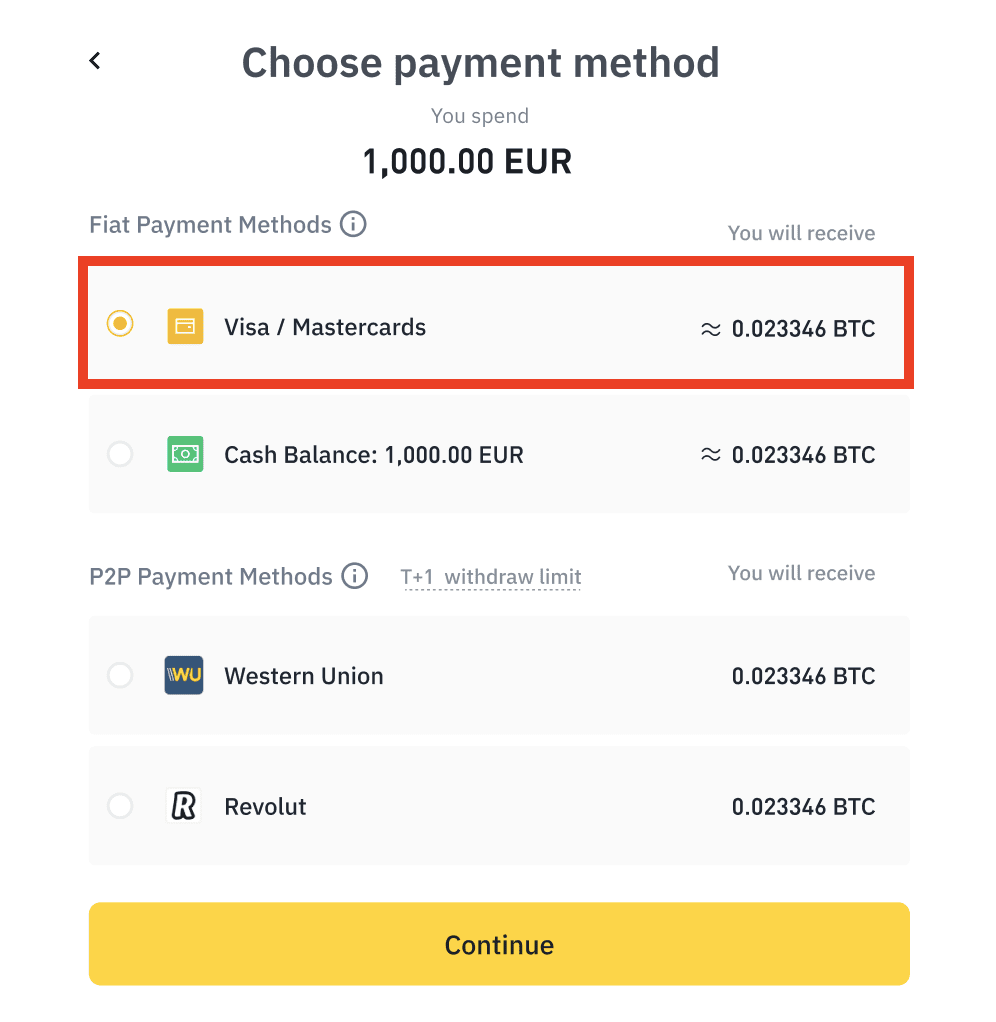 4- Follow the instructions and enter your card information.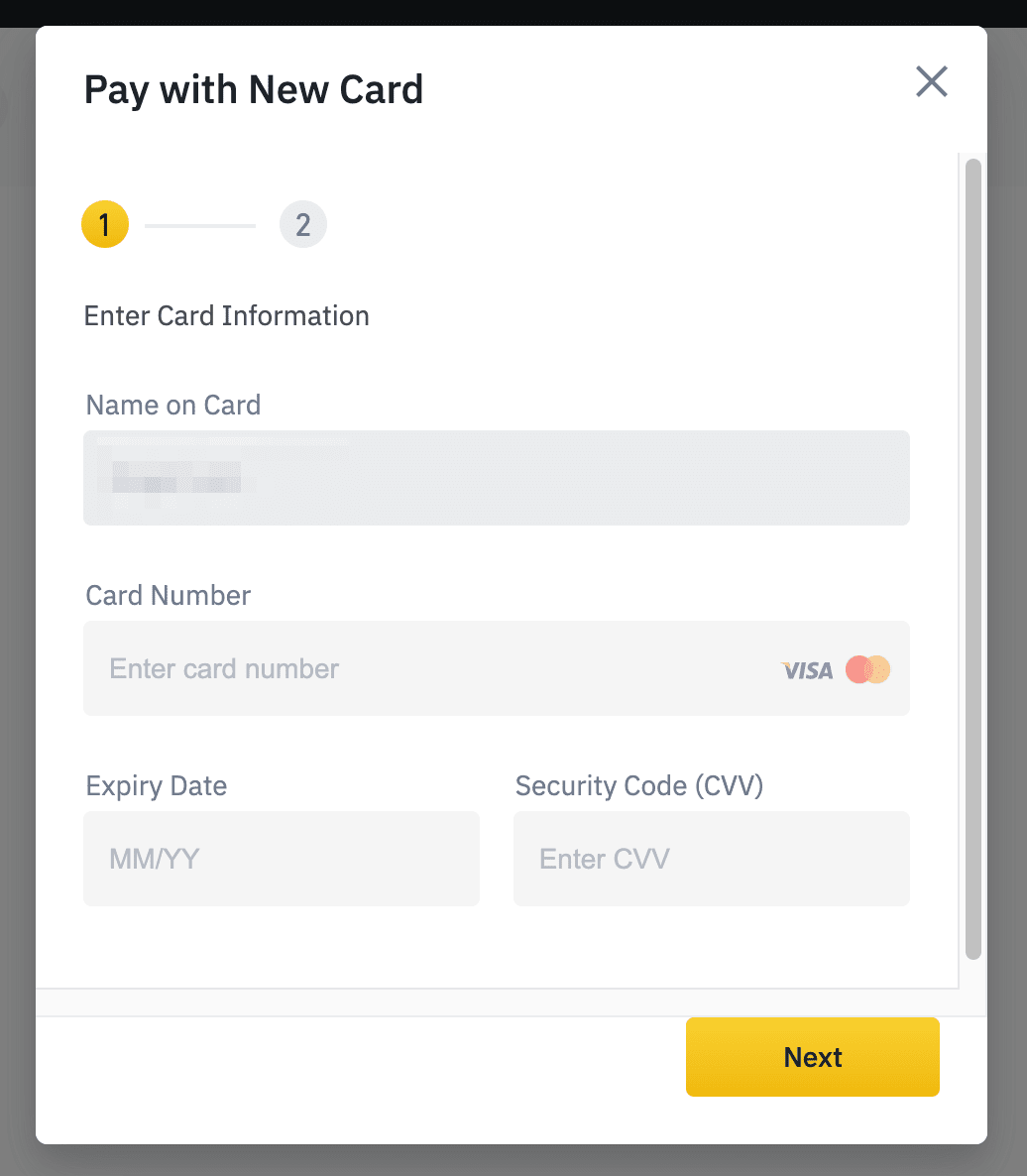 5- Your card will be added.
6. Please check the payment details and fees and confirm your order within 1 minute, or the amount of Crypto you can get will be recalculated based on the current market price.
Congrats, you made it! You now own bitcoin.
How to trade? 
1. Visit the Binance website and click [Login] at the top right corner.
2. Click on any cryptocurrency on the home page to go directly to the corresponding spot trading page. You can find a more extensive selection by clicking [View more markets] at the bottom of the list.
3. You will now find yourself on the trading page interface.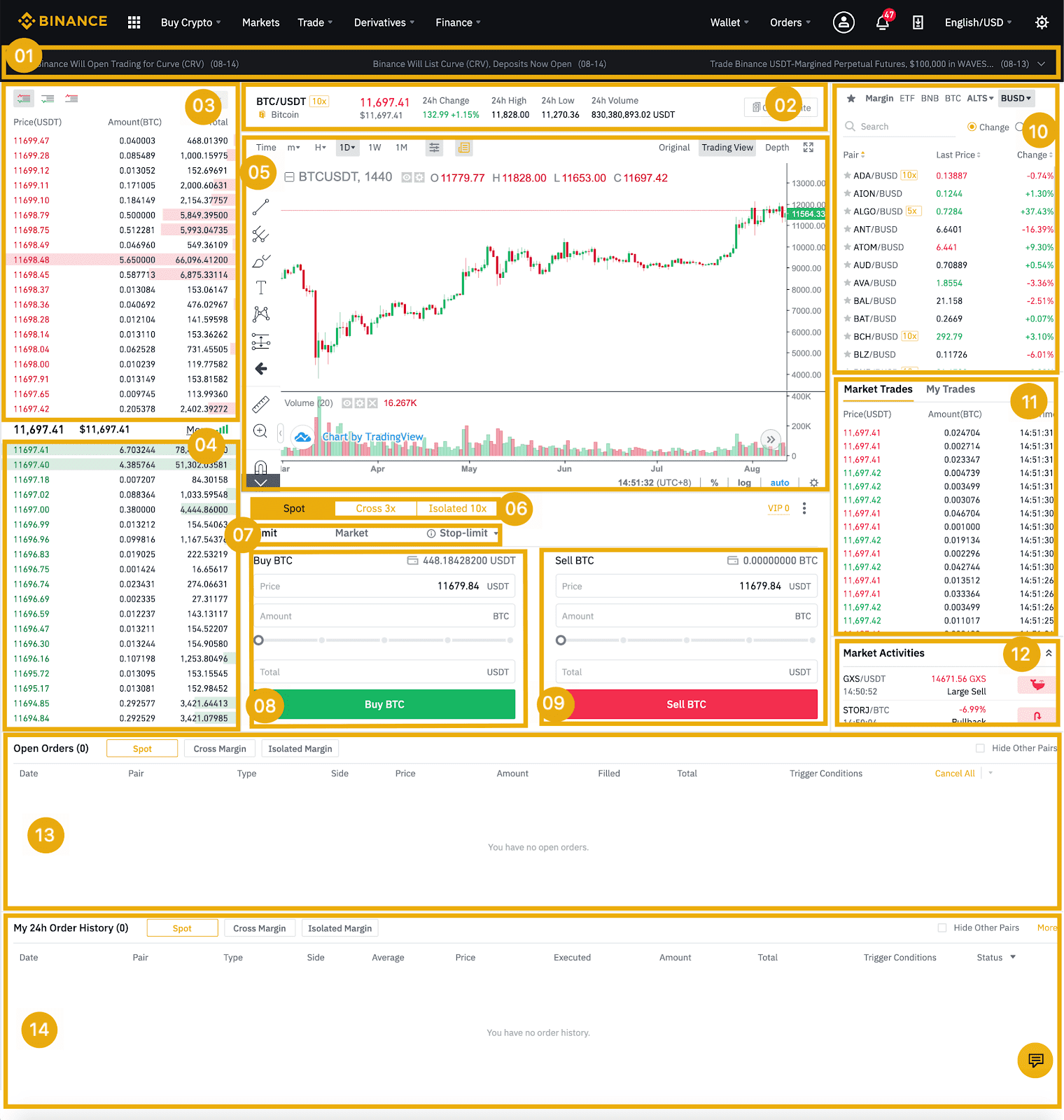 (1). Binance Announcements
(2). Trading volume of trading pair in 24 hours
(5). Candlestick chart and Market Depth
(7). Type of order: Limit/Market/Stop-limit/OCO(One-Cancels-the-Other)
(10). Market and Trading pairs.
(11). Your latest completed transaction
(12). Market Activities: extensive fluctuation/activities in market trading
(14). Your 24h order history
(15). Binance customer service
4. Let's look at buying some BNB. At the top of the Binance home page, click on the [Trade] option and select [Classic] or [Advanced].
Go to the buying section (8) to buy BNB and fill in the price and the amount for your order. Click on [Buy BNB] to complete the transaction.
You can follow the same steps to sell BNB.
Essential tips when spot trading:
Users can trade instantly at the current market price by choosing a market order. The default order type is a limit order. If traders want to place an order as soon as possible, they may switch to [Market] Order.

If the market price of BNB/BTC is at 0.002, but you want to buy at a specific price, for example, 0.001, you can place an [Limit] order. Your placed order will be executed when the market price reaches your set price.

The percentages shown below the BNB [Amount] field refer to the percentage amount of your held BTC you wish to trade for BNB. Pull the slider across to change the desired amount.
Fees
Binance's minimal trading fees are one of its most enticing features. While competitors' trading fees start at 0.50%, Binance's maker/taker fees range from 0% to 0.01%. Fees for instant purchases are 0.50 percent. BNB holders additionally enjoy a 0.25% trading charge reduction.
Users that retain certain assets and use them to pay their trading fees may be eligible for fee savings from crypto exchanges. Binance is one of these platforms.
Binance imposes a 4.5 percent fee for debit card deposits while having cheap trading fees. Users should deposit funds using ACH or wire transfer, which are both free options. Withdrawals via ACH are also free, while wire transfers cost $15 for domestic transfers and $35.00 for international transfers.
Opening a Binance Account
The procedure for registering a Binance account is quite simple. Simply go to the upper-right corner and select "Get Started." To begin, provide your email address and phone number. You'll also need to submit some basic personal information and upload a photo of a government-issued ID if you wish to buy, sell, or trade on the site.
As previously stated, the identification verification process might be time-consuming.
Compare with other exchanges 
Top 10 Approach
Our team is tasked with sourcing the best deals, bonuses, and products related to cryptocurrency trading. We evaluate the exchanges based on overall rating, numbers of users, adoption, and resources.
to support our page please use our link to register a Binance.com account and get 15% discount on your trading fees.
Binance "Fee Structure." https://www.binance.com/en/fee/schedule Accessed May 20, 2022.

How-to Binance "FAQ" https://www.binance.com/en/support/faq Accessed May 20, 2022.

CoinMarketCap. "Top Cryptocurrency Spot Exchanges." https://coinmarketcap.com/rankings/exchanges/ Accessed May 20, 2022.
10% Discount on Futures
Binance 10% Discount on Futures
Crypto Exchanges Coupons and Vouchers
Get a 10% Discount on Future fees when trading on Binance.